Back to top
News and Announcements
School Tour on Wednesday, January 15th at 10:00am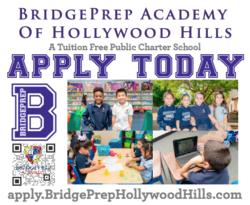 We are welcoming all potential BridgePrep Families to tour our school and learn about what we have to offer for the 2020-2021 school year.

Current Student Intent Form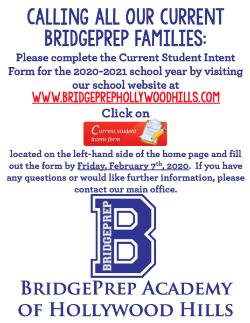 Calling all our current BridgePrep families:
Please complete the Current Student Intent Form for the 2020-2021 school year by visiting our school website at www.bridgeprephollywoodhills.com. Click on the red button on the left-hand side of the home page and fill out the form by Friday, February 7th, 2020. If you have any questions or would like further information, please contact our main office.

McTeacher's Night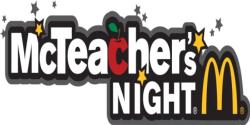 Join Us For Family Fun Night on Thursday, January 20th from 5-7 PM @ McDonald's 3247 Hollywood Blvd

January Calendar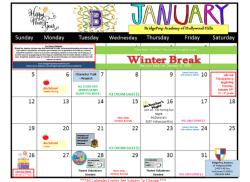 Winter Break Camp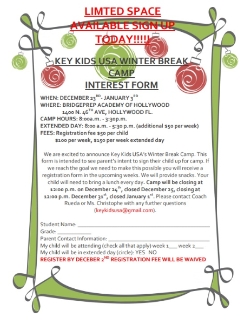 Apply Today for 2020-2021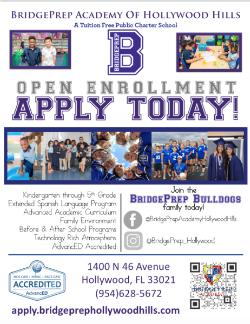 The new student application for the 2020-2021 school year is NOW LIVE!
Become a part of the BridgePrep Bulldog family.
Apply Today!
https://apply.bridgeprephollywoodhills.com
Instagram: @bridgeprep_hollywood
Twitter: @BPA_Hollywood

#BridgePrepAcademy #BridgePrepBulldogs #JoinTheBridgePrepFamily

Kyan's Kause- Give Miami Day
#GiveMiamiDay We are asking all our BridgePrep School Families to help Kyan's Kause continue to fund Swimming and CPR scholarships for Kindergarten and First grade BridgePrep students. You can support Kyan's Kause by donating at https://www.givemiamiday.org/BPAHollywoodHills

#BridgePrepAcademy #BridgePrepStudentsLearnToSwim #BPASwimmingLessons

November Calendar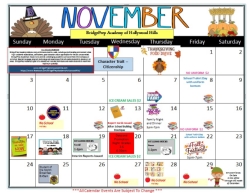 Early Release Day - Thursday, October 17th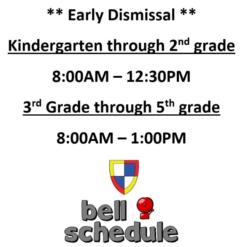 Thursday, October 17th is our first Early Release Day for the 2019-2020 school year. Make sure to pick up your student at the appropriate time for dismissal. KG-2nd dismisses at 12:30pm and 3rd - 5th dismisses at 1:00pm.

October Calendar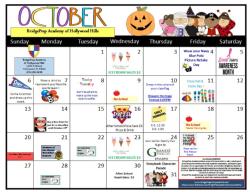 Mark your calendars with our October activities! Click for volunteer info